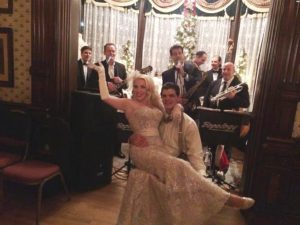 Unique Wedding Entertainment
Great improvised live music is spontaneous and therefore unique, and when brought into the context of your wedding reception entertainment -the existence of Bopology at your wedding reception automatically defines a theme that is becoming rare at wedding receptions –Great Live Music which is Great Entertainment.  You will have a Chicago Wedding reception where your guests raved about the band.
What's more – the band was nominated Best Jazz Band 2017 by the Chicago Reader.  Musical creation involves a visual component that mesmerizes children and captivates adults.  Often the awkwardness of a slowly filling room dissipates with conversation stimulated because a band is actually at your wedding.  People start talking, kids get excited and your guests have fun.  Dancers participate as long as there is a hard surface – a dance floor is best but the band can also set up on grass for outdoor events.  Electricity is needed, otherwise they bring a complete PA set up, lights as needed and complete instrumentation.  Professional and organized with the experience to prove it.
Then, if you so choose, a nightclub party option can be added on to a Bopology Chicago Wedding Band event by choosing the DJ components. (pre planned music lists, lights,  fog,…) and using the same PA as the live band, the late late recorded music party starts.  Totally unique in a simple Band and DJ combo package pricing.